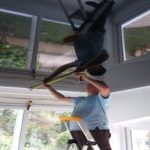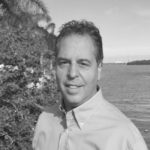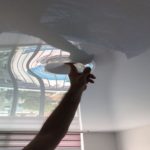 A Stretch Ceiling is a suspended ceiling system consisting of two basic components:
– A membrane
– A profile track
The profile track is installed on the perimeter of your room's wall 3/4   inch below and the suspended lightweight fabric membrane is clipped into the track perimeter.
Stretch ceiling has been on the market worldwide for decades, this wonderful product was created in France many decade ago.
The firsts stretched ceilings was specially to hide an imperfect ceiling, cracks, painting peels, cable or pipe.
After these successful years the stretch ceiling has become a real part of our interior and exterior home decoration, lots of designers now are considering the 5th wall as a real important space.
Batica-Renov USA, use the ORIGINAL method of Stretch Ceiling installation, no copy, that means our membranes are always removable really easily and can be reinstalled the same day and that as many times as necessary for your convenience or your contractor need.
We can install any lights,chandeliers, A/C Vents, Smoke detectors.
–Certification – Qualification – Experience – Quality – Price – Service – Warranty.
–We install and use only the thicker films membranes available on the market.
–Our glossy membranes are pure very high shinny and quality.
–We work ONLY with the European membrane the number in the world.
We don't buy cheap film membrane.
–Over the Years Batica-Renov USA Company has created his own stretch ceiling installation system with significantly upgraded stretch ceiling techniques for your comfort.
–The stretch ceiling is not always an easy room of four angles of 150 sqft, and when rooms become larger with many angles it's quite more complicated, at this moment you will need a real qualify professionals.
I'm artisan Stretch Ceiling installer since 1990.
We are licensed and insured. We are certified Stretch Ceiling contractor.
Since 2014 Batica-Renov USA are installed in Florida.
We can show and prove you for REAL pictures of our last job. (We don't buy pictures on internet for our website.)
–We have real proven satisfied customers.
Stretch Ceiling is the fastest, cleanest way to renovate your ceiling, get rid of Popcorn ceiling.
The suspended glossy reflective ceiling will enhance your actual ceiling perception, his shinny finish will make your ceiling look higher.
Stretching ceilings is the perfect alternative for your ceilings. Ceiling stretch film are very reliable. We are affordable ceiling installers company near you with a long experience.
Stretch ceiling can be placed in room with soundproof foam for an additional acoustical comfort.
We can adapt our micro perforated membrane for an acoustical ceiling tile. With our new concept we can create new ceiling ideas, ceiling decoration, ceiling panels.
Stretch ceiling fabric film membrane can be used for inside advertising light LED panels, we can print any signs, logos, pictures for your showroom, for your ADs or for your decoration.
Bedboard wood ceiling don't need to be removed we can install the membrane fabric stretch ceiling just 3/4inches below the same day, no mess, no dust, without removing your furniture. Do not paint your ceiling again, don't sand anymore your ceiling, don't patch too, the stretch ceiling system will save you time, money and effort. We can insert your ceiling medallion in stretch ceiling.
Tin ceiling tiles can be replaced by stretch ceiling printed faux tin ceiling tile, Batica-Renov USA manufacture stretch ceiling tile,
printed, glossy, matte, satin and mirror. Ceiling tiles, drop ceiling, coffered ceiling, popcorn ceiling in housing, businesses and offices or warehouse can be replace by stretch ceiling panel
membrane. If you have plastering walls or plastering ceiling or any ceiling covering we can help you renovating your interior with our stretch ceiling system without mess and dust.
Batica-Renov USA, we already have installed over 1.500.000 Sqf of Stretch Ceilings membrane and counting…
All You Need To Know About Stretch Ceiling Systems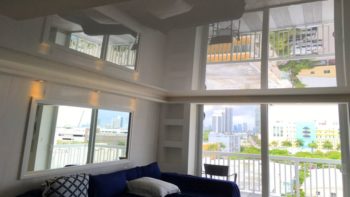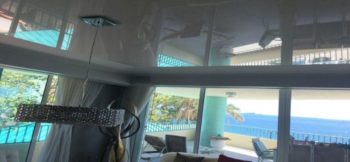 When you enter a room, your eyes first will focus always on the furniture and floor.
With a stretch ceiling lacquered mirror membrane, everybody will notice your ceiling right away and their first reaction will be:
"Your ceiling is absolutely wonderful" !!!
The main advantage of using Batica-Renov Stretch Ceiling is the end result: a beautiful smooth surface that can elegantly accent any décor.
The Stretch Ceiling can be successfully used in any new construction, renovation, design and decoration project, as an alternative or a complement.
The Stretch Ceiling track is a small crown installed on the perimeter of your wall at less than 1 inch below.
No drywall patch, No Popcorn removal, No Paint, No Sanding, No Dust and No need to move your furniture.
The Batica-Renov Stretch Ceiling system is much easier to install than any other types, such as drywall and suspended ceiling. The Stretch Ceiling System may be installed anywhere: Single family homes, condos, boats, hotels, motels, hospitals, theaters, airports, offices, stores, labs and even indoor pool areas.